BACKGROUNDThe following application concerns the removal of H2S from a water saturated CO₂ gas stream that was produced from an alkanolamine sweetener.
A natural gas plant located in the northwestern New Mexico, removes acid gas with alkanolamine absorption and regeneration. The resulting acid gas rejected in the regenerator vent contains over 99% CO₂ and as much as 150 ppm H2S. Reducing the H2S concentration to 10 ppm or less permits the gas to be discharged to the atmosphere.
SYSTEM DATA
Gas Flow Rate 5 MMScfd
Gas Composition 99 + %CO₂
Pressure 17-21 psig
Incoming H2S 150 ppm
Outgoing H2S 0-7 ppm
Enviro-Scrub® Consumption
0.035 to 0.040 gallons per ppm H2S per million Scf. 2.11 to 2.41 lbs. sulfur per gallon of product.
SOLUTION
Specially formulated Triazine is injected via an atomizer into a horizontal line just ahead of a static mixer in the rich amine feed to the regenerator. Before the CO₂ reaches the contact tower, the H2S concentration drops from 150 ppm to 40 ppm. The remaining H2S is removed in the regenerator.
RESULTS
The contact tower is on liquid level control.
The 10 ppm permit H2S level is easily achieved and
the air discharged into the atmosphere.
The spent Triazine is disposed of in permitted disposal wells.
This continuous system has produced substantial economic benefits for the customer.
TAKE-AWAYS:
H2S level reduced so that air can be discharged into atmosphere using Triazine.
---
Related Case Studies
Crude Oil & Liquids - Pro3®
H2S Removal in Crude from Marine Tankers
- $10K per month chemical savings by using Pro3®
- Deliveries cut by 50%
- Millions of barrels treated and hundreds of tankers and barges in spec.
Crude Oil & Liquids - Pro3® HT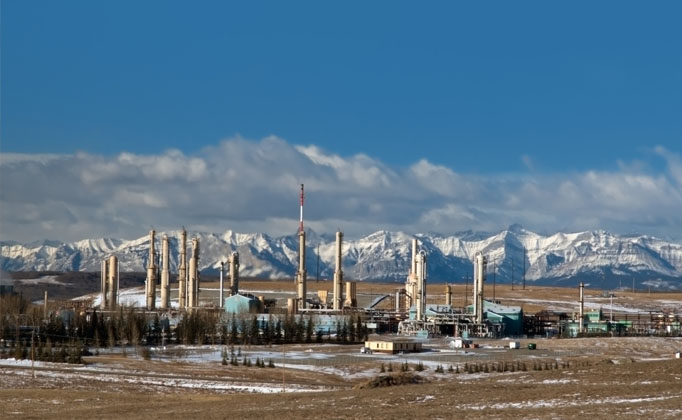 High-Temp H2S removal in Lab & Field Trials
- Effective at low H2S levels even with >1% BS&W.
- Quick reaction time.
- Remains effective at high temperatures.
- No evidence of sulfide scaling.

Crude Oil & Liquids - ProM®
Mercaptan Reduction in Condensate Splitter Feedstock
- ProM® Chemistry allowed customer to meet mercaptan specifications that MEA-Triazine was unable to reach.